Nearly 153 years ago, the purported first football game was played between Princeton and Rutgers on November 6, 1869 in New Brunswick, NJ. And many changes have occurred since Walter Camp, the "Father of American Football," first tinkered with the sport of rugby back in 1892 to create a precursor of the athletic event we view today.
One change that has never transpired to any extent is the involvement of women in the gridiron experience. The closest most females ever got to the playing field was as members of high school, college or professional cheerleading squads, save for crowd-entertaining "powderpuff" games.
And even those games had their beginning because of a lack of men due to World War II.
It was back on October 20, 1945 when East State Teachers College in Madison, SD was to hold its annual "Homecoming" game. Because of that lack of "manpower," girls who lived on campus, the Dormies, and those whom commuted locally, the Townies, decided to play in the annual game. At halftime, they staged a spoof of themselves when they put on makeup to the delight of the crowd. The local newspaper, The Madison Daily Leader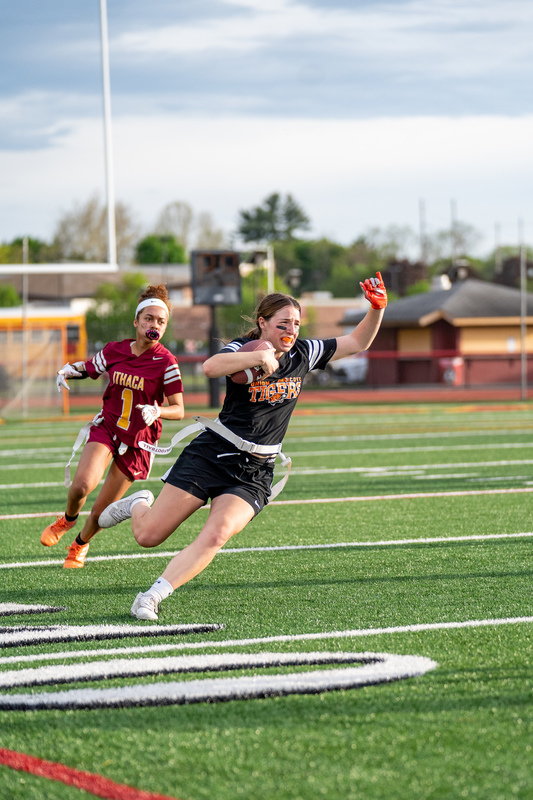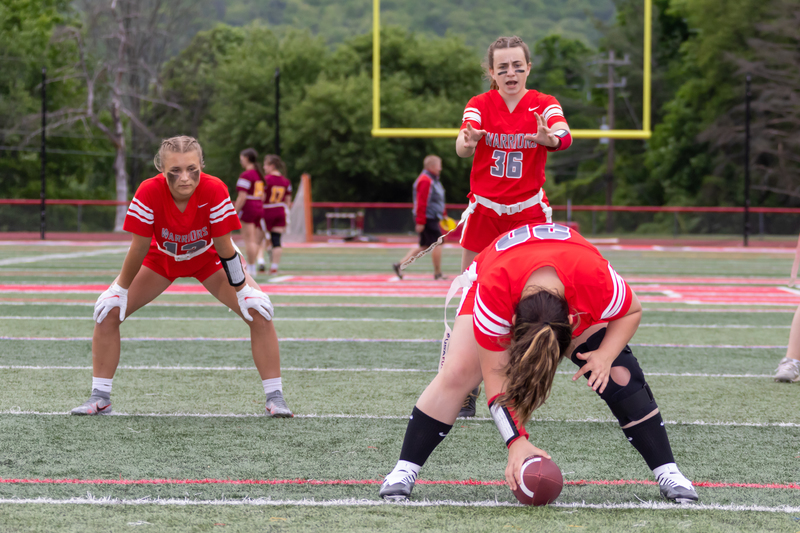 , dubbed the two teams "The Powderpuff and Rouge Elevens."
Fast forward now nearly 80 years, and the New York State Public High School Athletic Association (NYSPHSAA) teamed up with the Buffalo Bills, New York Giants and New York Jets to initiate a flag football program for girls this spring. Although still in the pilot stage, it is hoped that it will become a sanctioned sport with a state championship in a few years.
In flag football, there is no contact, but there is screen blocking, similar to setting a pick in basketball. Players are not permitted to wear bandanas, but may wear knit stocking caps or elastic headbands. Hats may not have a bill. And all players are required to wear mouthguards during game play.
There are no field goals and touchdowns are worth the same six points that are awarded in regular football. And extra points are determined by running a play from either the 3-, 10- or 20-yard line to account for one, two or three points, respectively.
It is 7-on-7 football, and teams must gain 20 yards in order to get a first down, or they can opt to punt. Instead of four quarters, there are two 24-minute halves played on an 80-yard long field that measures 40 yards wide.
Six sections (I, IV, V, VI, VIII and XI) from throughout the state committed to participation in the two-year pilot program. All three NFL teams representing New York have funded the program, with corporate sponsor Nike donating an additional $100,000. The Bills were represented by Sections V and VI, the Giants in Sections I and IV and the Jets in Sections VIII and XI.
"We needed four teams to be able to participate this spring. Initially, we had four schools (Chenango Valley, Ithaca, Norwich and Owego) commit," explained Section IV Executive Director Bill Bryant. "But Binghamton, Horseheads and Union-Endicott (two teams) came on board before the season started."
Brad Tomm, Chenango Valley Athletic Director, was selected as the new Section IV Girls' Flag Football Coordinator. Under his leadership, he held a clinic in April with all seven schools and the football officials respective boards to mull over the rules of the game. Scrimmages were later held that same day.
A six-game schedule was implemented with a Gold Series and Silver Series playoff at the end of the season. Sites and times have yet to be determined.
"NYSPHSAA was hopeful to get 24 teams to participate in the inaugural season among the six sections involved. We ended up having 52 schools," noted Bryant. "At this point, it has been a successful spring season. Hopefully, we will have a few more teams entered in the spring of 2023."